Custom Made Follow Focus Gears
Forget about cheap plastic printed and rubber mold gears!
GEAR UP your beloved vintage lenses with PRO-quality Metal Focus Gears. We can make custom-fit Follow Focus Gears to any lens by your measures.
Our manufacturing facilities capable of making metal gears with an outside diameter up to 110 mm.
The price for custom-made gear varies depends on dimensions  (OD – outside diameter, and width of the gear.) Price range from $55 to $100. We offer a Bulk discount on 10+  gears orders.
Manufacture turnaround can take up 1-3 weeks. All gears are made of high-quality aluminum alloy and have top-quality anodizing. Each gear designed with 6 holes for setscrews. That is the most reliable and safe way of Cinemoding your lens. The set screws and Allen key included with each gear package.
CinemodMaster delivers worldwide. You have a choice of different shipping methods and reliable tracking information.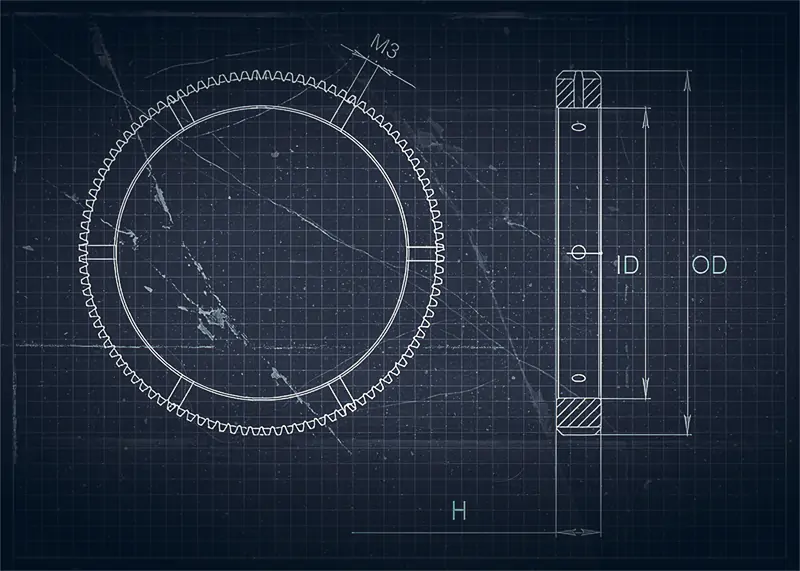 To start on Your Custom Order build we have to know two main measurements:
The inside diameter (ID) (Lens diameter)

The width of the gear H (Standart: 10mm Focus Ring; 6mm IRIS Ring)

The outside diameter and Teeth Count
(standard OD sizes: 82mm – 100T and 92mm – 108T)
CinemodMaster Custom Gear Size Measurement - Step by Step Guide:
1.  For best results we highly recommend using a digital caliper. With a measuring tape, you can get only the approximate diameter of your focus ring. You can use those numbers as a starting point and compare them with other results. If you do not have a measuring tape, download a printable ruler at printableruler.net.
We highly recommend You get a digital caliper

. It's quite an inexpensive but versatile tool.
2. IMPORTANT: Do not press the caliper too hard especially be careful with measuring the rubber lens burrel size. You can slightly spin the lens or caliper around and take multiple measurements. Then to round out and choose the average number.
3. The minimum width of the gear can be 5 mm. But we recommend the 6mm as we can use the larger and stronger HEX set screws M3. The 6mm Gear works great as an IRIS GEAR
Here are some images for your reference.  Please keep in mind =) "Measure seven times, cut once"
Lens Profile Size
Please use a digital caliper and measure the lens profile view. From the front side of the lens, you can measure the Focus, Rear side for an IRIS. (It's not possible for some wide-angle lenses, skip for the next step). Take up to 3 measurements resetting the caliper and rotating slightly the lens. Do not push the caliper too hard and don't make large gaps too.
Lens Front Size
Follow the same measuring ways and measure the diameter of the front-facing lens (Focus/Iris). Some lenses have a textured rubber. To measure it accurately please slides the caliper up and down slightly (not too firm and lose grip). Take 3 notes and calculate the average number: Sum of all notes/number of notes. That way if you get the most accurate measurements of any lens.
Gear Widths Size
The final step is to measure the Focus/IRIS Gear width.
Out best performing and lightweight size combination is:
-FOCUS 10mm
-IRIS 6 mm
Some Macro lenses will require wider focusing gears up to 35-50mm. (require more metal for manufacturing).
Please contact for extra-wide gear quotes.